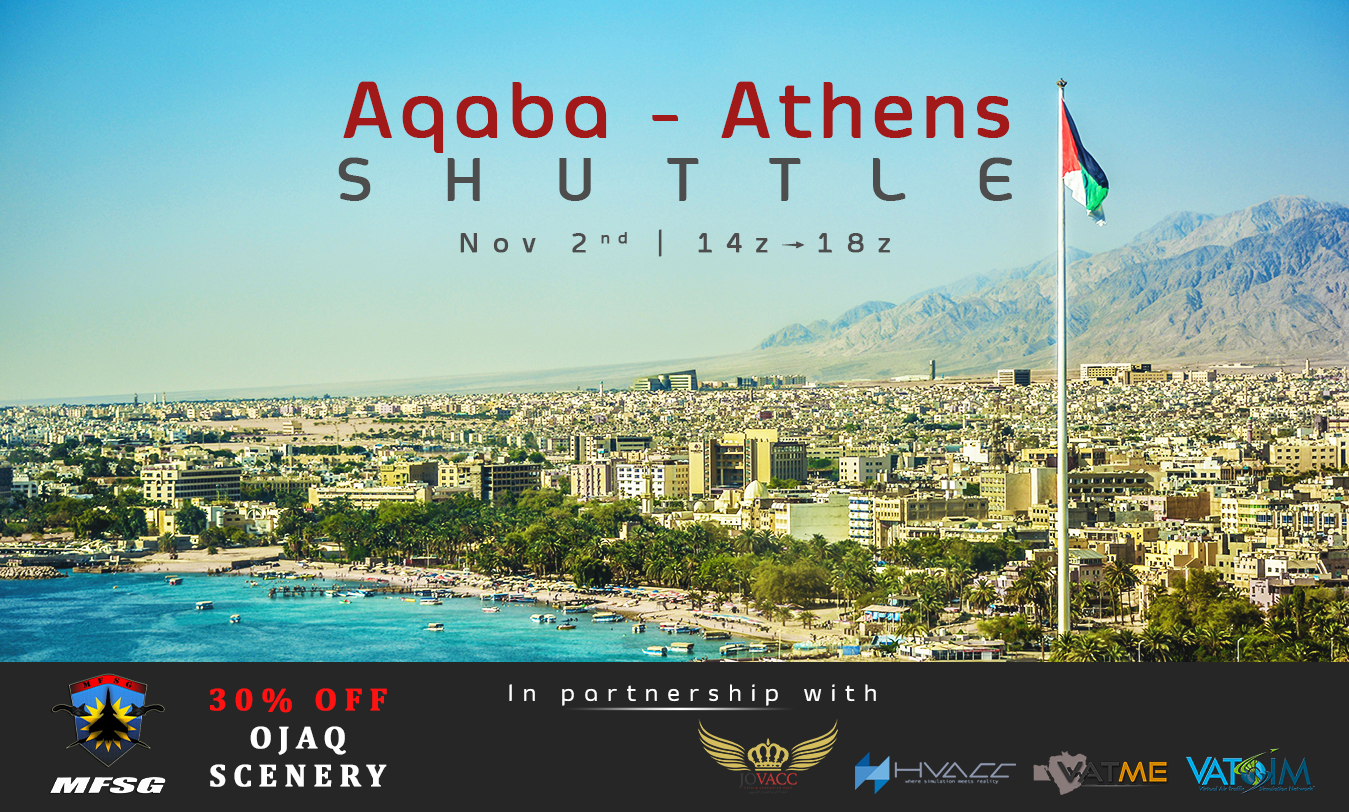 Aqaba – Athens Shuttle
Το Hellenic vACC σε συνεργασία με τo JOVACC διοργανώνουν για πρώτη φορά στην Ελλάδα το Aqaba – Athens Shuttle!
To event θα πραγματοποιηθεί το Σάββατο 2 Νοεμβρίου από τις 1400z – 1800z με πλήρη κάλυψη.  
Hellenic vACC and Jordan vACC are pleased to deliver a shuttle event between Aqaba and Athens!
Mark your calendars for November 2nd to enjoy full ATC from 1400z till 1800z, where you can fit the 2 sectors easily in!
For this special occasion, MFSG have generously given a discount for all pilots on the OJAQ scenery which could be found on simMarket with 30% off!
Preferred route:
OJAQ-LGAV: METSA DCT NWB J981 DATOK UL550 PASOS UG183 KAROL UL995 VARIX
LGAV-OJAQ: KEA UL52 MAGIS UN134 ASPIS UG183 PASOS UL550 KARIK B411 ULINA DCT METSA
Visit Jordan vACC for additional charts and scenery.
Visit HellenicVACC for additional charts and scenery.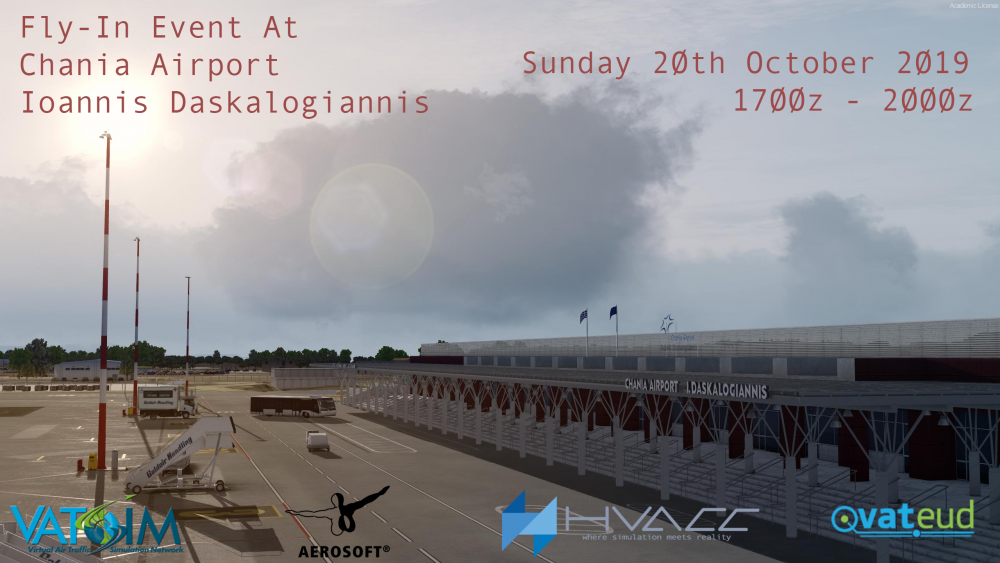 Αγαπητοί φίλοι και φίλες,
Το Hellenic vACC διοργανώνει στη Ελλάδα ένα μοναδικό αξέχαστο γεγονός, την Κυριακή 20 Οκτωβρίου μεταξύ 1700z και 2000z.
Ελάτε μαζί μας κατά τη διάρκεια αυτών των 3 ωρών, καθώς γιορτάζουμε την νέα κυκλοφορία του scenery των Χανίων και του νέου "Audio For Vatsim" (AFV).
Σας προσκαλούμε να πραγματοποιήσετε πτήσεις προς το αεροδρόμιο των Χανίων Ιωάννης Δασκαλoγιάννης (LGSA) από τα αεροδρόμια του υπόλοιπου ελλαδικού χώρου.
Το Ιωάννης Δασκαλoγιάννης (LGSA) θα είναι πλήρως επανδρωμένο σε όλη τη διάρκεια της εκδήλωσης, δίνοντάς σας την ευκαιρία για μια ρεαλιστική πτήση.
Στο Hellenic vACC είμαστε σίγουροι ότι οι Πιλότοι και οι Ελεγκτές που θα λάβουν μέρος στο «LGSA Fly-In Event» θα περάσουν ένα υπέροχο βράδυ γεμάτο προκλήσεις που μόνο τα Ελληνικά αεροδρόμια μπορούν να προσφέρουν!
Όλοι είναι ευπρόσδεκτοι να συμμετάσχουν !!!
Ετοιμάστε το αεροπλάνο σας  και ελάτε να περάσουμε καλά και να ζήσουμε άλλη μια αξέχαστη εμπειρία στο δίκτυο της VATSIM!
Μετά το πέρας του event, όλοι οι συμμετέχοντες θα μπουν στην κλήρωση για δυο κουπόνια έκπτωσης σε όποιο προϊόν επιθυμούν από το e-shop της Aerosoft.   
Dear friends,
Hellenic vACC is happy to present, an another unforgettable event on Sunday 20th of October from 1700z to 2000z.
Join us during these 3 hours, as we celebrate the new scenery release of Chania Airport and "Audio For Vatsim" (AFV).
We invite you to make flights to Ioannis Daskalogiannis (LGSA) Airport from the rest Hellenic airports.
Ioannis Daskalogiannis (LGSA) Airport will be fully staffed during the entire event time, giving you the opportunity for a realistic turnaround flight.
In Hellenic vACC we are sure that the Pilots and the Controllers who will participate in the "LGSA Fly-In Event" will have a wonderful night full of challenges that only Greek airports can offer!
Everyone Is Welcome To Join Us!!!
Get your airliner or business jet ready and let's do another memorable flight on VATSIM together!
After the event all participating pilots will take part in a lottery and 2 of them will win a discount coupon in a Aerosofts' product of their choice.
New Scenery: Ioannis Daskalogiannis – LGSA
More Informations About Our Airports: https://briefing.hvacc.org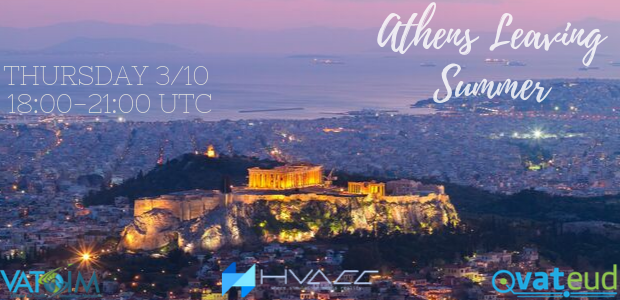 Άλλο ένα καλοκαίρι έφτασε στο τέλος του, το HvACC σας προσκαλεί την Πέμπτη 3 Οκτωβρίου μεταξύ 1800z – 2100z  να πετάξετε από και προς το πλήρως επανδρωμένο αεροδρόμιο της Αθήνας (Ελευθέριος Βενιζέλος – LGAV)  για να αποχαιρετήσουμε το καλοκαίρι και να καλωσορίσουμε το φθινόπωρο.
Another summer season has reached it's end.
HvACC invites you to fly from/to Athens El. Venizelos International Airport (LGAV) at Thursday 3rd October 2019 from 1800z to 2100z, with full ATC Coverage.
Time to say "goodbye" to Summer, and "welcome" to Winter.
Briefing and Scenery suggestion
See you there!
Briefing and Scenery suggestion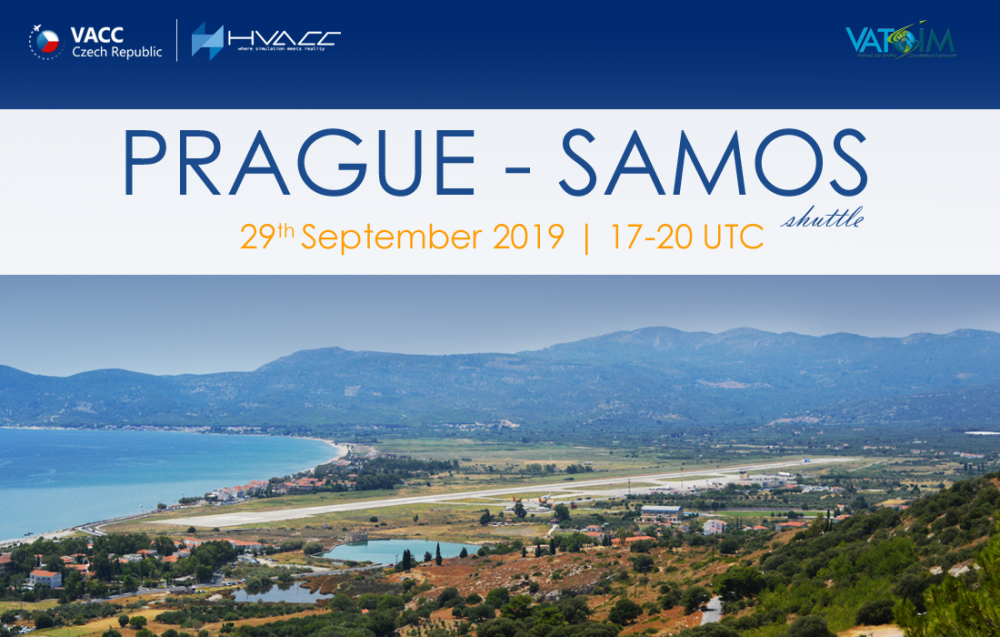 Dear Pilots
VACC Czech Republic and Hellenic vACC are excited to announce the shuttle event between Prague (LKPR) and Samos (LGSM), linking one of Europe's most beautiful city and the famous seaside destination! The event takes place on September 29th between 17:00 and 20:00 UTC.
Samos has one of the most difficult and stunning approaches in Europe. High terrain, last-minute turn, strong wind gust and a short runway, all combined together at a single airport.
We are looking forward to seeing you!
---
Charts and airport info:
Samos – Aristarchus of Samos (LGSM)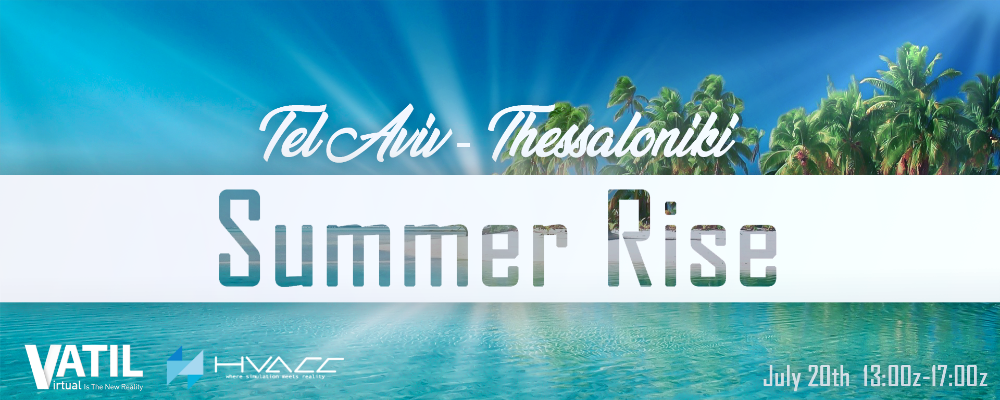 Το HvACC σε συνεργασία με την VATIL  οργανώνουν ένα event για το καλωσόρισμα του καλοκαιριού μεταξύ Tel Aviv (LLBG) και Θεσσαλονίκης (LGTS) στις 20 Ιουλίου 2019 μεταξύ 1300z και 1700z.
Dear Pilots,
We are proud to invite you to the "Summer Rise" event.
The event will take place on July 20th between 13:00z-17:00 UTC, departures from Tel Aviv (LLBG) to Thessaloniki (LGTS)
Click here to book your flight with our new flight booking system!
You can expect full ATC service at Geneva and Tel Aviv including ATC coverage during the flight.
The flight distance is about 800 nm and the estimated flight time is 2 Hours
Come and join to enjoyable and with great ATC service!
We hope to see you in the air.
Recommended route:
Route : LLBG – LGTS
PURLA L53 SUVAS UL53 KAROL UL995 RDS UL609 MES UG18 GIKAS UN133 PEREN G12 ARNAS
Scenery and Charts: LLBG / LGTS
We wish you a successful and enjoyable event!
It's finally that time of year again! Schools and universities are about to finish, final exams are mostly over and families are getting ready for their holidays at the beach. Can you think of anything better?
VATEUD, VATSPA, VATFRANCE, HvACC, VATITA, VATNAF, VATEG and VATIL will be Lighting Up the Mediterranean on Saturday, 15th June from 1600z until 2000z. There will be at least one airport fully staffed at each VACC. Stay tuned here for more information on which airports these will be!
Don't miss the opportunity to fly and enjoy the amazing sunset of the Mediterranean coast!
Eurovision Song Contest
Dear Pilots,
We are proud to invite you to the special "Tel-Aviv Eurovision" event.
The event will take place for the Eurovision Song Contest on May 18th between 11:00-17:00 UTC,
VATIL will open its control room to provide real and high-quality ATC.
Click here to book your flight with our flight booking system!
You can expect full ATC service at Tel Aviv and its surrounding area.
Come and join to an enjoyable event with great ATC!
We hope to see you in the air.
For scenery and charts click here
We wish you a successful and enjoyable event!
Yes, it's really happening!
VATEUD & VATME are proud to announce the first-of-the-kind event connecting the two divisions!
You will be presented with a unique day of full ATC from Europe's 4 airports:
EIDW – Dublin Airport
EHAM – Amsterdam Airport Schipol
ESSA – Stockholm Arlanda Airport
LIRF – Rome Fiumicino Airport
All the way to the Middle East with:
HECA – Cairo Intl. Airport
OJAI – Queen Alia Intl. Airport
OMDB – Dubai Intl. Airport
OTHH – Hamad Intl. Airport
Do not miss out on the Flight Booking as slots are limited! Departures will be ongoing for 2 hours (1000z – 1200z).
Airport briefing documents: https://vats.im/CTLBriefing (they'll be uploaded as soon as they get finished).
You can expect to receive the routing in your email as soon as we make them available, providing you have booked a slot.
Κυριακή 23/12/2018 19:00 – 21:00 τοπική
Αυτή την Κυριακή 23/12/2018, ένα S3 CPT θα λάβει χώρα στο αεροδρόμιο Μακεδονία της Θεσσαλονίκης!
Ο Αναστάσιος Μπίθας θα προσπαθήσει να μας αποδείξει ότι τα κυάλια πλέον είναι παρελθόν και το μέλλον του είναι στα ραντάρ.
Ελάτε να τον κάνουμε να ιδρώσει!
Επισκεφθείτε μας πετώντας από και προς το αεροδρόμιο της Θεσσαλονίκης, βοηθήστε τον να αποκτήσει το rating του και το HvACC να στελεχωθεί με έναν νέο, άξιο εικονικό ελεγκτή εναέριας κυκλοφορίας!
Σας περιμένουμε.
Sunday 23/12/2018  19:00 – 21:00 Local Time 
On Sunday, 23/12/2018 an S3 CPT will take place in LGTS Makedonia airport!
Anastasios Mpithas will try to convince his examiners that he is capable of "pushing tins" on his own!
Let's make sure we push him to his limit so that he rightfully earns the title of TMA controller.
Join us at Thessaloniki Airport (LGTS) and help him earn his rating!
Dear Pilots,
We proud to invite you to the "Yasas Rhodes" event.
This event has a lot of meaning for VATIL members – it's planned in the memory of Zvi Rodes – One of VATIL founders.
The event will take place on November 10th between 12:00-17:00 UTC, departures from Tel Aviv (LLBG) are planned between 12:00-15:00 UTC and arrivals to Rhodes (LGRP) between 13:00-17:00 UTC.
Click here to book your flight with our new booking system!
You can expect full ATC service at Tel Aviv and Rhodes and ATC coverage during the flight.
The flight distance is about 450 nm and the estimated flight time is 1.5 Hours
Come and join to enjoyable and with great ATC service!
We hope to see you in the air.
Recommended route:
LLBG – LGRP
PURLA L53 SUVAS UL53 KAROL UL995 IRBAX
Scenery and Charts: LLBG / LGRP
A bit about Zvi –
It is with great sadness that announce 2 weeks ago the passing of Zvi Rodes. Zvi, a true aviation enthusiast and one of the founding fathers of VATIL who also served in various staff positions both in VATIL managed our affiliated virtual flight school at the time, IFS. Despite his lengthy battle with cancer throughout the past years, Zvi has always fought to maintain his flight simulation hobby and rarely missed any divisional meeting or activity since VATIL's establishment. Zvi's massive contribution in developing the Israeli virtual simming community would always be remembered. May his memory be blessed.
We wish you a successful and enjoyable event!
Merry Christmas to all of you, Vatita will gift you with surprise coverage.
So you will find ATC all over the Area Control Centres and some other random airports.
Hope you join us and have some fun to add to the Christmas spirit.
Where to find Charts
Charts
Some payware airport
Fiumicino payware scenery
Malpensa payware scenery
Pizza Night 2016
LGTS Real Ops 17 JAN 2015
LGTS Real Ops 2014
On Saturday February 15th 2014, between 1600Z and 2200Z (1800LT and 2400LT) the second HvACC LGTS RealOps event took place (the first one took place on 22/5/2011). The event coincided with the release of the wonderful new LGTS scenery "Thessaloniki X" by FSDG (until then the only nice scenery was the freeware one by Greek Airports Project – GAP – which, although designed for FS9, was perfectly adequate for FSX).
Live in Athens vol. 2
After arrangements with our dear member Valia Tsagkalidou, real ATCO at Athens ACC (and CTR on VATSIM), we managed to organize a major event from the premises of a real ATC Unit, more specifically Athens ACC. It is the second time this happens and just like the first time (Feb 2013) our objective was to provide ATC coverage to LGAV (Tower to Delivery) and LGGG/MD as realistically as possible.
The team's meeting was set outside Athens ACC at 1000Z. The fact that the event started at 1400Z theoretically gave us plenty of time to get ready and solve any technical problems that would arise (network, equipment etc.).
LGAV Real Ops 2013 – The Autumn Experience – Debriefing
A team of 12 real and virtual ATCOs decided to take care of the traffic at LGAV, Athina Control and some surrounding airports.
Expect the unexpected – Debriefing
On Saturday October 26, between 1700Z and 2100Z a "different" event took place between HvACC and CvACC, called "Expect the Unexpected".
The scenario was as follows: between 1700Z and 1800Z participating aircraft would depart from Cyprus back-to-back, destined to LGAV. Halfway through their flight they would be informed that LGAV could not accept any more traffic due to security reasons, and they would be instructed to hold in Athens TMA until further advised.
Athens Major Aiport Day
HvACC's 24hr event "Athens Major Airport Day" successfully took place between September 27, 0700Z and 28 0700Z. LGAV airport rated first in total movements for the duration of the event, totaling 140. Greek VAs played a significant role in the event, as can be seen below:
Live in Athens, Vol.1 Saturday 16/2/2013 – Debrief
Όλα ξεκίνησαν λίγο μετά τις διακοπές των Χριστουγέννων του 2012, όταν σε κάποια συνάντηση για καφέ, το μέλος μας Γιώργος Τσακογιάννης, πέταξε την ιδέα να μαζευτούμε κάπου μια ομάδα ανθρώπων και είτε να πετάξουμε όλοι μαζί είτε να κοντρολλάρουμε… Η ιδέα ήταν καλή και είναι γεγονός ότι και στο παρελθόν είχαμε προσπαθήσει να οργανώσουμε κάτι αντίστοιχο. Ωστόσο, το κόστος ενοικίασης αίθουσας που θα πληρούσε τις προδιαγραφές εκείνες που θα επέτρεπαν την οργάνωση ενός πετυχημένου event, καθιστούσε την όλη ενέργεια μάλλον απαγορευτική.
1st Air Traffic Control Week
The HvACC participated to the 1st Air Traffic Control Week organized by the Hellenic Air Traffic Controllers Association.
HvACC presented itself, the foundamentals of VATSIM and virtual Air Traffic Control. A succesfull S3 CPT at Thessaloniki, Makedonia (LGTS) airport was also undertaken that day.
A small debrief is available here (in greek)
Last minute Christmas jetsetters
Christmas Jetsetters took place on Saturday 22 December 2012 from 1500 till 2100Z and the following movements were recorded.
LGAV: 45
LGTS: 11
Greece Airport Capacity Overload
Greece Airport Capacity Overload took place on Saturday 8 December 2012 from 1600 to 2200Z. Movements recorded at that day are shown below.
LGAV: 65
LGIR: 23
LGRP: 18
LGTS: 11
LGAV – LGTS Express
LGAV: 50 movements
LGTS: 40 movements
Athens Overheat 2011
HvACC in collaboration with FlyTampa, organize the Athens Overheat 2011. On Sunday 6 November 2011 from 12:00 till 22:00z, we will fully staff the LGAV airport and the Hellenic airspace! LGAV is a large airport, so we expect loads of traffic! Our ATC team includes real life ATC, so once again, expect excellent service!
LGTS Real Ops Event
HvACC Presents "LGTS RealOps 2011″
Welcome to LGTS RealOps 2011.
This event aims to simulate the exact traffic conditions and Air Traffic Services of a specific 6-hour period (last year's August 19, 07-1300Z) at Thessaloniki/Makedonia airport of Greece (LGTS).
Expect approximately 100 movements of all kinds (scheduled, non-scheduled, operational, training, helicopter) that will push the airport to its limits. Just book your flights, study the charts and a team of highly motivated virtual and real-life ATCOs will take care of the rest.
Expect full coverage of LGTS from the ground up, as well as LGGG/LGMD and at least Greece's major airport LGAV.
Greek Regional Overheat – EAST
HvACC welcomes you on the last "Regional Overheat" event, now covering East/Southeast Aegean airports, taking place on 8 April 2011, 16-2200Z. Mytilini (LGMT), Samos (LGSM), Kos (LGKO), Rodos (LGRP), and LGGG/LGAV will be fully staffed!
Greek Regional Overheat – NORTH
Northern Greece welcomes all virtual pilots on April 1st, 2011, 16-2200Z, to explore its beauties by making one or more flights to/from the airports of Thessaloniki (LGTS), Ioaninna (LGIO), Kavala (LGKV) and Alexandroupolis (LGAL). All airports will be staffed by our ATCOs, along with LGGG and LGAV.
Greek Regional Overheat – SOUTH
72hrs ATC Marathon
The event, which was characterized by a variety of pilot nationalities, was a great success, as it brought together more than 1000 flights (overflights are not included), equally divided to its 3 days.
Greek Regional Overheat – WEST
On Friday 18 March 2011 16-2200Z western Greece waits for you. Corfu (LGKR), Aktio (LGPZ), Kefalonia (LGKF), and Zakynthos (LGZA) airports will be fully staffed, while enroute (LGGG) and LGAV will also be manned. A unique opportunity to enjoy the Ionian islands…
LGIR Real Ops – 26/09/2010
This event took place on the 26/9/2010 and aimed to simulate the real traffic of LGIR that took place during the 6-hour period of 1400-2000Z on the 22th August 2010. Real-life pilot and ATC operations were in place, with briefings composed by participating real Greek ATCOs. The event finally lasted 7 hours (1330-2030Z) and we had approximately 80 movements.
We would like to congratulate the pilots who attended the event, as well as all the ATCOs that made it as real as it gets by manning LGIR DEL/GND, LGIR TWR, LGIR APP, LGGG, and LGAV_APP. Special thanks go to Valia Tsagkalidou, who composed the briefing documents used by both pilots and ATCOs.
Sun Tan Event – 20/06/2010, 1500 – 2100Z
In order to welcome the Summer, HvACC organized, with the cooperation of Hellenic VAs and Cypriot vACC, an open event on 20/6/2010 between 1500 and 2100Z. During the event ATCos had manned the LGGG/MD and LCCC FIRs, as well as most major Greek and Cypriot airports (LGAV, LGTS, LGIR, LGKR, LGRP, LCLK). The event was a major success, as can be seen here (comparison of the movements of all european airports in the specific time period, where 3 Greek and 1 Cypriot airport are in the top-20 european traffic airports), andhere (LGAV traffic for the same period – 74 movements, 3rd largest in Europe).
The Milkmen Flights – 16/05/2010, 0200 – 0700Z
The "Milkmen Flights" was an event simulating the real operations and traffic of Athens International Airport El. Venizelos on a specific 2010 March morning – hence the event title. During mornings airlines must follow a tight schedule of consecutive departures, which are followed by their respective arrivals. Due to the fact that most domestic flights are of similar duration, the departures & arrivals tend to accumulate in tight 1-hour periods!
The event was organized via the new HvACC Events site (http://events.hvacc.org/), where pilots could book their flights and receive their briefing.
The event's traffic can be seen here (also here) In total LGAV had approximately 50 movements, but the real beauty of the event was that it took place very early in the morning (0500-1000 local time), thus giving a real taste of the ATC and pilot operations of morning flights.
LGAV Real Ops Event
LGAV real operations brings you real time flights?
Not quite …..
Hellenic virtual ACC (HvACC) is pleased to announce the "LGAV Real Ops" Event with approximately 150 flights inbound and outbound the busiest Greek airport, "Eleftherios Venizelos" (LGAV).
HvACC – SATURN Media event
Hellenic vACC, in cooperation with SATURN Media (340 Suggrou Avenue), sponsor of 6th Panhellenic FlightSimmers Conference, organized another unique event – forerunner of the conference, on Saturday May 16th 2009.
48hrs ATC Marathon
Hellenic vACC organized a very succesfull ATC Marathon in Hellenic FIR wich lasted 48 hours! More than 1000 flights departed or arrived in Greece during this two days! Read the full debriefing below.
Hellas on Strike – December 2008
Hellenic vACC invites you to an event full of surprises on 07/12/2008, named Hellas on ?. Equip yourself with your good mood and be in the Greek FIR after 18:00UTC (20:00 LTl). Leave the rest to us!
The only thing that is certain is another enjoyable and…interesting evening!!
You can find and download charts for Hellenic (Greek) FIR here.
Visit webpages of HST and GAP for freeware sceneries of Greece.
1st IFR Relay – October 2008
The Hellenic vACC organizes the 1st event of the new season. We have opted for something different to start with, forerunner of the many new things we are planning for 2008 – 2009.
We would like to present the First IFR Flight Relay which will take place on Sunday 12 October 2008 at 20:00 local (17:00z).
Makedonia LGTS Complete
It is this time of year and it is really simple. On Friday, April 18th 2008, "Makedonia" Airport of Thessaloniki will be open for six hours starting 16:00Z (18:00 LT)and will handle hundreds of movements of passenger, cargo, general aviation and military traffic, both local and international.
City Hopping International Event LGAV – HEAX & HEBA – April 2008
Continuing the "Cityhopping" events, the Hellenic and Egyptian vACCs are proud to present "Road to Alexandria". Saturday April 12th 2008, 1600z – 1900z, pick your favorite aircraft, file a flight plan – whether IFR or VFR – start at either city and experience the flowing succession of hill, sea and sand as well as thousands of years of culture!
Island Spring Challenge – March 2008
The Hellenic virtual Area Control Center dares you to join us for the continuation of our Small Airports events series and fly between Chios, Samos and Kos. Be prepared for short runways and unpredictable weather! Saturday, March 15th at 19:00Z (21:00 LT).
Athens – Ben Gurion Group Flight – February 2008
The Israeli and Hellenic virtual Area Control Centers are proud to invite you to the big leagues! Prepare your big iron (or lightweight carbon fibre, as the case may be) and experience international flying at its best! Join us on February 2nd from 1900 to 2200Z either at Athens "Eleftherios Venizelos" International Airport (LGAV) or at Tel Aviv "Ben Gurion" International Airport (LLBG).
City Hoping International Event: LGAV – LTAC
On December 18th 2007, the Turkinsh and Hellenic vACC will be hosting an event that has at times been embraced by hundreds of pilots – city hopping. Short legs, rapid succession of destinations and images, fast – paced action.
"Epirus Delight" Local Event
Welcome to the second of a new series of events, hosted by the Hellenic virtual Area Control Center! Each time you will be acquainted with one of the more.. quaint airports in Greece. That is our aim: open one small airport each time, whether in the mountains of the north and west or the string of island pearls in the Aegean and Ionian seas. Forget the fancy ILS approaches, multiple runways, the ease of Secondary Surveillance Radar! You will find procedural approaches in use and you may have to dust your skills at flying DME arcs and NDB approaches.
Athens Champions League Final
The most popular football final game, Champions League final, took place in Athens Olympic Stadium (OAKA) on May 23rd 2007. In real life, thousands of football fans arrived in Athens, to watch this game live.
Hellenic vACC, organized this event, named "Athens Champions League Final" in order to simulate the inbound and outbound traffic in Greece these days. For that reason, the event took place at 22, 23 and 24th of May.
"Athens to Malta" – Group Flight
A group flight where 28 flights departed from Greece to destination Malta (LMML) International Airport organized by Hellenic vACC at May 19th 2007. For further details visit the debriefing page below!
Winter Overheat in Greece – Major Event
This is the Major winter event for 2006, organized by Hellenic vACC at December 9th 2006, named "Winter Overheat in Greece". 15 controllers and about 320 pilots participated! Read the debriefing of the event below.
"LGZA – LGMK Islands" Event – October 2006
The LGMK-LGZA event, took place on October 8th 2006. The main idea was to celebrate the release of 2 new sceneries, for Mikonos Airport (LGMK) by HST and Zakinthos Airport (LGZA) by GAP. This event was very succesful, with a total of 167 flights within 4 hours! Follow the debriefing link below for more details.
"OneSky4" Event – May 2005
This event was organized by VATSIM EUROPE, in collaboration with other divisions of VATSIM, on 7 May 2005. Onesky 4, the 4th on line event had as an objective to cover for certain hours all possible ATC positions.
The Hellenic department, HvACC, taking advantage of this occasion, began a parallel marathon ATC event, beginning almost one day before, and ending the same hour that Onesky 4 finished.
This entire effort and idea became finally a unique reality! Thus the Greek FIR "opened its doors", Friday 6 May at 18:00LT, and remained online even after the official end time of OneSky4 , roughly until 03:00LT of Sunday 8 May 2005!
"Triangle" Fly-in – April 2005
On April 15, 2005 HvACC organized its Triangle Fly-In event to celebrate the arrival of two new interface programs for online flying in VATSIM, Squawkbox 3 and FSInn.
The event took place between 20:00 and 00:00 local time and three major airports of the Hellenic FIR were staffed, those of Athens (Eleytherios Venizelos – LGAV), Thessaloniki (Makedonia – LGTS) and Herakleion (Nikos Kazantzakis – LGIR). Check the debriefing of this event below!
Winter in Greece Fly-in – November 2004
Summer in Greece can be hot with clear skies, but winter is full of surprises, strong winds, low visibility, snow, thunderstorms on islands (especially in November) and many more interesting conditions. Come and enjoy with us for a few hours the winter in Greece in this fly-in event with any flight you'd like to and from Greece. All sectors of the Greek FIR will be covered by high quality ATC service.
"Olympic Flame" Fly-In – June 2004
The Olympic Flame Event was an international event that took place on VATSIM all organized by HvACC. The main idea was to transfer virtually the Olympic Flame from Athens, that held Olympic Games 2004, all over the world. For that reason hundreds of flights arrived to Athens Eleftherios Venizelos Airport and returned to their departure airport with the Flame. Additionally, the flame was distributed within the countries it has arrived. Some of the flights that Greek flightsimmers did was from Athens to Singapoure, Sydney, New York etc!
PIC Boeing 757/767 Training Seminar – Class I – LOFT – January 2003
This was a group flight from LCLK (Larnaca Int., Cyprus) to LDZA (Zagreb Pleso, Croatia).The pilots flown were the first class that graduated the PIC Boeing 757/767 Training Seminar
"Summer is here" Fly-in – May 2003
The "Summer is Here" event has been concluded with another success for the HvACC. 8 hours of continuous controlling throughout the Hellenic FIR with 15 controllers and 300+ flights.
This was also the first HvACC Fly-In that the new controlling client ASRC was used and this was accomplished with great success. A new era for HvACC Fly-ins has started.
"Special Squadron" Event – June 2003
The HvACC Pilots Department organized a special Squadron event on Friday 20/06/2003 21:00 Local (18:00 UTC). This special event was for the Pilots of Squadron A,B and C and took place on theVATSIM network.
In this event the pilots flown predetermined Flights and their origin and destination was different for each squadron.
"LGAV Complete" Fly-in – October 2003
The "LGAV Complete" event, held between 17:00-22:00Z on October 19th 2003.
180+ flights serviced by HvACC's controllers for a complete experience at LGAV where 160 flights were serviced. Traffic surpassed by much real-life standards of LGAV for most of the duration of the event, keeping pilots and controllers busy. Pilots found themselves among dozens of other flights while controllers fought in getting everyone to their destination in a safe and quick manner with their radar screens filled with flights.
Take a tour through the screenshots of the debriefing page.
Athens ACC Visit – November 2003
This is a web presentation of real air traffic control radar systems in Athens, Greece. It is addressed to people who have some basic idea about aviation and radar operations. It is not intended to be used as training material for real air traffic controllers. It is composed by virtual air traffic controllers exercising ATC as a hobby via the Internet on VATSIM network.
European Group Flight – November 2002
On the 30th of November 2002, the HvACC flew to Europe. 50+ flights left Greece for destinations across Europe: Brussels, Budapest and La Palma. All of the fortunate pilots participating in this magical event had received pre-flight packages with the flightplans, specific to their route and aircraft type, prepared from our Training Department.
The flights that took place were:
LGTS (Thessaloniki) – LHBP (Budapest)
LGAV (Athens) – EBBR (Brussels)
LGZA (Zakynthos) – LEPA (La Palma)
Advanced PIC767 Training Seminar – Class I – October 2002
On this webpage you can find some screenshots from the 1st Advanced PIC767 TrainingSeminars that took place on October 2002. This was the first training seminar on a flight simulator addon aircraft, and the trainer was a real life aviation pilot.
28h ATC Marathon – April 2002
The 28-hour ATC Marathon was organised by the Hellenic vACC on April 13 & 14 2002. It has managed to set several new all-time records in terms of an all-network, continuous on-line ATC coverage and number of aircraft movements. Never before have there been so many flights recorded in a single event (650+), organised within the boundaries of a single, and relatively small, controlled airspace such as the Athens FIR.
LGAT – LGAV Local Fly-in – March 2002
During this event a great number of flights flown from LGAT to LGAV simulating in a high degree the way the transfer from LGAT to LGAV took place in the late days of LGAT. It was mostly an event to honour the legendary airport.
5th International Fly in – December 2001
The 5th International Fly in took palce on SUNDAY, 2nd December 2001. After the first hour no controller had the time to note on paper all of them!!! For a couple of hours Servinfo had a stack of 90-110 flights and 12 controllers. So in the period of the 5.5h we estimate 250+ flights!
"Greek Summer" Fly in – June 2001
Thanks to you (pilots, virtual airlines, neighbour countries' controllers) the Greek Summer Fly-In was another successful event.One picture is 1000 words, so… here are 3000 words!
4th International Fly in – February 2001
Friday February 16th
Around 250 flights took place inside the Hellenic FIR in the 6 hours that the Fly In lasted.
Syros Fly-In – January 2000
The 1st real life Fly In by Hellenic vACC members on January 2000 to the airport of Syros.
1st HvACC Seminar
The first Hellenic Virtual ACC Flightsimmers Seminar took place on 4th March 2000 in Athens. It contained all the subjects a FlightSimmer should know in order to execute an "as Real as it Gets" Online Flight within SATNET. Sponsor of this Seminar was Intercap Co., which gave as the room and the technical support (14 Monitors,2 PCs, room etc) for the Seminar.
Paros Fly-In – April 2000
A real life Fly In that took place on April 15th 2000 by Hellenic vACC members. Destination was the beautiful island of Paros.
"Overload II" Fly-In – July 2000
OVERLOAD II Fly-In was part of a series of fly-ins that have taken/will take place in Europe. The OVERLOAD Series was an idea of Phil (SATUK1) and Broder (SATEUR1) which seems to be working PERFECTLY and that is easily proved, if you check the numbers of flights which took place in OVERLOAD I (by SATUK) and OVERLOAD II (by HvACC) Events. We estimate that far more than 200 flights have taken place to/from/inside the GREEK FIR during the OVERLOAD II Event (1930z-0230z)
Astypalea – Naxos Fly-In – October 2000
In this webpage you can find some downloads of a real life fly In that some of our members participated on October 2000 flying to Astipalea and Naxos islands.
Porto Heli – Kithira Fly-In – November 2000
A real life Fly In to Porto Heli and Kithira Island, organized by Hellenic vACC members
3rd International Fly in
Saturday December 2nd, 2000
Around 120 flights took place inside the Hellenic FIR in the 6 hours that the Fly In lasted.
2nd International Fly-In – October 1999
PC Flight Magazine Vol. 4
Below you will read an article of PC Flight Magazine (Dec.1999) by Terry McGee regarding our 2nd Intl. Fly-in.
Flight Plan: LIRF to LGAT
Flight Level: FL330
Route: TEA-BRD-NOSTO-ARA-DDM-ATH
Enjoy…